happy monday to you!
i feel like there's much to share this week.
i wonder how much blogging time i'll get?
guess what?! a certain little fella behaved for a haircut!
well, behaved is a bit of a stretch. it was more like a two hour torture session. for all involved.
patrick gets the prize for a job well done, and elijah gets the prize for being adorable.
sometimes, when we are waiting for patrick to get off work, i let elijah jump around in the car.
during summer, we run around on the strip of grass near the parking lot,
or walk around and peek into shop windows. it's winter now though.
so, inside the car activities are allowed.
he loves blasting music and bobbing his head, turning the wipers on high,
gettin' crazy with the hazard lights, drinking water and spitting it everywhere...
that last one isn't allowed, but happened as i snapped the photo above. pfft.
the business "cards" she had made for a recent design conference are tattoos.
best idea ever? i think so. her logo is beautifully tattoo worthy.
in fact, i think i may get a permanent one...the rose + the stripes = love!
so, much like sending off for loot from a cereal box, i mailed her a self addressed stamped envelope.
and she so sweetly sent me these! now i am the coolest kid in town.
know when else i was the coolest kid in town?
when i was a little girl, on andover drive in jackson, mississippi.
on friday nights my parents would pull out the sofa bed, cut the lights,
and get ready for some quality television. miami vice.
now i have it on dvd. cop show + 80s fashion = love.
i think i was four years old.
sitting with my dad on that old sofa bed.
and mama would slave away in the kitchen making a treat.
caramel corn. oh man, was it delicious!
this is exactly the memory that i thought of when i made this:
microwave caramel corn? sign me up!
it's crazy delicious when you sneak it as it cools; warm and gooey sweetness.
i made a batch as a treat for me and patrick. then i made a second batch,
almost immediately after the first...as the first batch seemed to be quickly disappearing,
even before patrick knew it existed.
and
be sure to check out all the sweet monday links at
carissa's
place!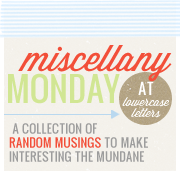 what are you up to on this fine monday?