it's friday, hooray!
do you have christmas shopping plans for this weekend?
today i've got something you can add to your list.
my friend
angel
is here today to share something special with us!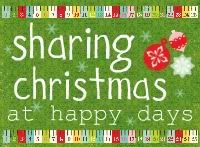 Sweet, beautiful Hannah has a page at the top of her blog titled GIVE Christmas. After reading through it, I left a comment about a ministry I lead in Tucson, AZ called Cord of Hope. Within hours Hannah emailed me and asked if I would be willing to share about our ministry on her blog. Just to let you know, I'm completely honored for two reasons. First of all, I'm a very consistent reader of Hannah's Happy Days. I try to limit my commenting on her posts as to not appear to be a stalker. This takes much restraint. Second, this is my first time guest posting, and to do this for a blogger that continually lifts high the name of Jesus is humbling and fulfilling . So, thank you, Hannah. You bless me more than you know. Seven years ago my family along with ten friends moved to Tucson to start a church called
Second Mile
. Before we moved I learned about a ministry that took gifts into strip clubs at Christmas and Easter in the name of Jesus with no strings attached. My heart was gripped with burden and urgency. After moving in November, our church planting team agreed that Easter would be our first outreach to a club in our city. If you would like to read more detail about the beginnings of our ministry, you can click
here.
Every Christmas and Easter a team of four women take beautiful gift bags to women in several mens clubs in our city. We do smaller outreaches throughout the year, but our main gifts are given during these two holidays because it is so easy to integrate Christ into any conversations we may be blessed to have while talking with the dancers. Because we've been consistent in the clubs for seven years, the managers trust us and the dancers know us. Many of the women tell us it will be the only gift they receive. To see their faces light up with excitement over a beautiful bag of goodies brings us happiness. To see them take a book we've made with the story of Jesus' birth brings us hope. To trust that Christ alone will draw them to himself brings us joy and draws us to our knees. Please know that our motives for undertaking this ministry originate in simplicity. Our main motivation is to obey what Jesus specifically moved in my heart to do. I continually lay any rights I may perceive I have to see results, to receive accolades, to feel significant at his feet. This is for His glory alone, not me, not our ministry, not our church. Jesus alone. Our second motive is simply to share Christ with women that more than likely wouldn't feel comfortable going to church. We go where
they
are. We go where
Jesus
would go if He was walking in body with us. We go where Jesus
is
and believe that he
loves
the people in the clubs in such a way that he laid down His life for them. We go to
love these women
as Jesus has loved us. The goal is
not
to get them out of the sex industry. That is the Holy Spirit's job. Our goal is to give them an opportunity to hear about Jesus and pray they respond to His beautiful, pure pursuit of their lives.
Cord of Hope
is the name of this ministry in our city. We hope that we are bringing a scarlet cord of hope to each women that will lead her straight to Jesus. I can think of no better way to celebrate the birth of Jesus than to take gifts to women who are much like the women he spent time with on earth. I can so relate to the woman who
washed Jesus' feet with her tears
and hair. Or the woman who was thrown to the ground about to be
stoned to death because of her sins
. Or the woman who was
too busy doing house work
to sit and spend time with him. Or the
woman at the well
that had given herself to too many men. Thanks be to God that he so dearly, tenderly, generously, profoundly loves women. What a beautiful thought!
If you would like to know more about this ministry I'm sharing more about it on my blog today. If you would like information on how to start something like this in your city, please email me or leave a comment.
If you can pray for our Christmas outreach which takes place Friday, December 9th starting at 10:00pm, we would covet your prayers. If you would like to donate to our ministry, please email or comment.
Because we give quality gifts, store bought and handmade, the costs can be high. There are no salaries paid. We are volunteer based.
Today at my blog,
Living with Moxie
, I'm doing a give-away... my first give-away I might add. This is interesting because I don't want it to necessarily be about the prize, but about the prayer. So, if you are interested click over and read more details.
Thank you for reading about a passion God has placed on my heart. I pray God uses it to stir you to love, to give, to go for His glory alone.
***
i think angel is the sweetest stalker a girl could ever have, don't you? :)
angel
, thank you so much for sharing this important ministry with us.
let's all seek the lord and ask how he would have us participate with angel and her family.
check out angel's
blog
, always food for the soul!