hey, friends! i'm sure you remember hearing about
the tornado that devastated much of joplin, missouri.
that was a couple of weeks ago.
i've been carrying on here in my little town, business as usual.
the people of joplin are still devastated.
my bloggy friend
wendy
has a cousin whose family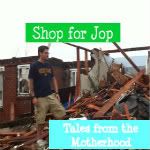 hop on over and check out the fun shops participating
in the drive to help this sweet family!
portions of purchases made through monday night, june 13,
will be donated directly to them or to
charities active in joplin tornado relief efforts.
christmas will be here before you know it!
why not shop a bit early?
or treat yourself or a friend to a little happy!
so then, as we have opportunity,
let us do good to everyone,
and especially to those who
are of the household of faith.
galatians 6:10esv